NEBOSH International General Certificate in Occupational Health and Safety
International General Certificate in Occupational Health and Safety
Phoenix Health and Safety is a NEBOSH Gold Learning Partner # 614.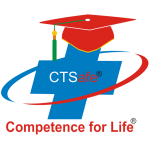 CTSafe Center is in partnership with Phoenix Health and Safety to deliver  NEBOSH courses in Vietnam.
International health & safety certificate from NEBOSH, ideal for managers and supervisors based outside the UK.
Why NEBOSH International General (IG)?
The 1st reason:  The NEBOSH International General Certificate in Occupational Health and Safety (IGC) provides a broad understanding of health & safety issues and is an essential qualification for anyone working in or wanting to work in safety & health anywhere in the world.

The 2nd reason: The NEBOSH Certificate is highly respected by employers worldwide and is an essential first step for those wanting a long and successful career in HSE. The NEBOSH IGC enables you to apply for many different health and safety jobs, such as Health & Safety Officer, Advisor, Superintendent, etc in almost any industry.

The 3rd reason: Professional body recognition
Meeting the academic requirements for Technical Membership of IOSH (TechIOSH)
Being entitled to Associate Membership of the IIRSM (AIIRSM)
Suitable for:
The course is ideal if you are a manager, supervisor or employee representative based outside the UK. It is also recommended if you are embarking on a career in health and safety, providing a valuable foundation for further professional study.
Learning outcome:

  
How to effectively manage health and safety.

How to identify and control common workplace hazards.

How to measure if you've been successful.

ILO key standards and requirements.

Confidently carrying out risk assessments.

Developing and implementing a detailed action plan.

Managing and minimising workplace risks.

Supporting and developing your company's health and safety culture. 
Course outline:
There are two course Units (IG1, IG2) to successfully complete before you become fully certified with the NEBOSH International General Certificate qualification.
Unit IG1: Management of Health and Safety
Element 1 – Why we should manage workplace health and safety

Element 2 – How health and safety management systems work and what they look like

Element 3 – Managing risk – understanding people and processes

Element 4 – Health and safety monitoring and measuring
Unit IG2: Risk Assessment
Element 5 – Physical and psychological health

Element 6 – Musculoskeletal health

Element 7 – Chemical and biological agents

Element 8 – General workplace issues

Element 9 – Work equipment

Element 10 – Fire

Element 11 – Electricity
The open Book Exam has replaced invigilated, paper-based exam since Dec 2020

An open book exam assesses the same learning outcomes as an invigilated, paper-based exam. With an open book exam, you can have access to textbooks, course notes and the internet.

You can complete an open book exam in your own home, or another suitable location. You will have up to 24 hours to complete the NEBOSH open book exam.
Following the open book exam is a short closing interview, which takes approximately 15 minutes. The purpose of the interview is to confirm that the work you have submitted is your own and that you did not have any assistance in completing your NEBOSH assessment.

The closing interview takes place via video call, which you can access via smartphone, tablet or computer.

The interviewer will ask to see identification, you need to provide either your passport, driving license or national identity card. The interviewer needs to see the room that you are in to ensure you don't have access to notes during the interview.

The interviewer will ask you questions based on your open book exam, your work and your submission. 
Course Features
Lectures

0

Quizzes

0

Duration

110 hours

Skill level

HSE practitioners

Language

English

Students

0

Assessments

Yes