ISO 31000 Lead Risk Manager
ISO 31000 Lead Risk Manager
Professional Evaluation and Certification Board (PECB) is a global provider of training, examination, audit, and certification services for multiple fields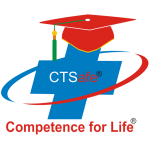 CTSafe Center is in partnership with PECB to deliver  ISO courses in Vietnam.
What is ISO 31000?
ISO 31000 is an international standard for Risk Management that provides a set of principles, a Risk Management framework and process, which help organizations take a proactive approach to risks that they face. ISO 31000 helps organizations to develop, implement and continuously improve a framework that aims to integrate Risk Management strategies into the overall organizational processes including decision-making.  The Risk Management process involves following five steps that identify circumstances, detect risk-associated hazards, assess and determine the risk, control evaluated risks and review the impact of the risks.
This international standard is important if you are interested in providing yourself with comprehensive guidelines that will help your organization strengthen its indecision-making process and overall management.  ISO 31000 is intended to simplify the task of governing complex situations that require crucial decisions to be made towards a structured approach of identifying and judging risks.
ISO 31000: Standards History and Updates
The first ISO 31000 standard was published on November 13, 2009. Its purpose at that time was to provide principles and generic guidelines on Risk Management, seeking to provide a common approach to Risk Management processes in support of standards dealing with specific risks (without replacing those standards). However, the 2009 version of ISO 31000 did not intend to promote uniformity of Risk Management across organizations. 
The updated version of ISO 31000 was released on February 2018, replacing the ISO 31000:2009.
The revised standard delivers a clearer, shorter, and more concise guide that will help organizations make better decisions. It emphasizes the integration of Risk Management within the organization, and the role and responsibility of leadership. ISO 31000:2018 uses a simpler language, thus making it accessible to all stakeholders.
Definition of Risk
ISO 31000:2018 defines risk as the "effect of uncertainty on objectives". It focuses on any deviation (positive, negative, or both) from the expected outcomes which can create or result in opportunities and threats. At the same time Risk Management is defined as ''coordinated activities to direct and control organization with regard to risk''. 
On a wider spectrum, the definition of Risk Management is to establish a coordinated and economical application of resources that reduce, monitor and regulate the probability and impact of unfortunate events. Managing risk is crucial for organizations - it helps to establish necessary steps so to remain resilient and develop a plan of action and strategies which can eliminate or reduce the impacts of risks.
Why ISO 31000 Risk Management is important for you?
ISO 31000 will guide you toward identifying potential risks that could endanger the achievement of crucial objectives; it will help you to determine which risks are essential to take in order to achieve primary objectives before they affect the business, while effectively keeping all other risks under control.
Furthermore, becoming ISO 31000 certified proves that you have undergone the proper professional training; further advancing your risk management and risk identification skills. Nonetheless, helping you to formulate and correctly implement strategies and solutions to improve and protect the needs of the organization. Attending our training courses will be beneficial for you because it makes you more marketable to employers, as nowadays professional certifications are crucial.
What is ISO 31000 Certification?
This training course enables individuals to comprehend fundamental concepts about Risk Management and understand the importance and benefits that can be obtained by this standard. Those who should attend are individuals who are interested in understanding the processes and strategies of Risk Management.
Being ISO 31000 certified means that you are protecting your organization from potential risks that could endanger the operational efficiency, governance, and stakeholders' confidence. The ISO 31000 training course will provide support and allow you to identify opportunities, threats and risks. It will help strengthen and achieve the strategic objectives of your organization by establishing a risk-based system of values. 
Benefits of ISO 31000 Risk Management
The implementation of ISO 31000 improves operational efficiency, governance, and stakeholder confidence in your organization, while minimizing losses and enhancing risk analysis and risk assessment capacities. It helps integrate a risk-based decision-making in the culture of your organization.
Moreover, the integration of the ISO 31000 framework within an organization ensures the consistency and the effectiveness of management across all its areas such as IT, HR, compliance, quality, health and safety, business continuity, etc.
It is important to mention that the ISO 31000 guidelines are applicable to any activity of an organization, and can be customized by any organization and its context. 
PECB Certified ISO 31000 individuals involved in risk management process of an organization will enable the organization to:
Gain competitive advantage – enhanced risk management will support achieving goals and objectives
Reduce costs through proper risk management
Respond to change effectively  and find viable solutions
Create and protect value
Increase the likelihood of achieving objectives
Productively  identify the opportunities and threats
Identify and mitigate the risk throughout the organization
Gain stakeholder confidence and trust
Create a consistent basis for decision making and planning
The ISO 31000 Lead Risk Manager training course helps participants develop their competences to support an organization create and protect value by managing risks, making decisions, and improving performance using the ISO 31000 guidelines. It provides information regarding the core elements and the effective implementation of a risk management framework, the application of the risk management process, and the actions necessary for the successful integration of these elements to meet organizational objectives. Furthermore, it provides guidance on the selection and application of techniques for assessing risks in a wide range of situations.
Upon completion of the training course, participants can sit for the exam and apply to obtain the "PECB Certified ISO 31000 Lead Risk Manager" credential. The credential demonstrates that the participant possesses the theoretical and practical knowledge and professional capabilities to support and lead risk management processes based on ISO 31000 guidelines and best practices in this field.
Risk directors, managers, officers
Individuals responsible for the creation and protection of value in organizations
Top management members who seek guidance on how risk management should be integrated at a strategic level
Individuals responsible for risk management processes
Individuals interested in risk management
Understand the risk management concepts, approaches, methods, and techniques
Learn how to interpret the ISO 31000 principles and framework in the context of an organization
Learn how to apply the ISO 31000 risk management process in an organization
Learn how to establish a risk recording and reporting process and an effective risk communication plan
Develop the ability to effectively manage, monitor, and review risk in an organization based on best practices
The training course is based on theory and best practices used in risk management.
Lecture sessions are illustrated with practical examples and scenarios.
Participants are encouraged to communicate and engage in discussions and exercises.
The exercises are similar in structure with the certification exam questions.
A fundamental understanding of the risk management framework, process, and principles.
Day 1: Introduction to ISO 31000 and risk management
Day 2: Establishing the risk management framework and initiating the risk management process
Day 3: Risk analysis, risk evaluation, and risk treatment according to ISO 31000
Day 4: Recording and reporting, monitoring and review, and communication and consultation according to ISO 31000
Day 5: Certification exam
The "PECB Certified ISO 31000 Lead Risk Manager" exam complies with the requirements of the PECB Examination and Certification Program (ECP). The exam covers the following competency domains:
Domain 1: Fundamental principles and concepts of risk management 
Domain 2: Establishing the risk management framework
Domain 3: Initiating the risk management process and assessing risks
Domain 4: Risk treatment
Domain 5: Risk recording and reporting
Domain 6: Risk monitoring and review
Domain 7: Risk communication and consultation
For specific information about exam type, languages available, and other details, please visit the List of PECB Exams and the Examination Rules and Policies.
After successfully passing the exam, you can apply for the respective credential. You will receive the certificate once you comply with all the requirements of this certification. Certification fees are included in the exam price. For more information about the certification, please refer to the Certification Rules and Policies.
The requirements for the "PECB Certified ISO 31000 Lead Risk Manager" certifications are:
| | | | | |
| --- | --- | --- | --- | --- |
| Credential | Exam | Professional experience | Risk Management experience | Other requirements |
| PECB Certified ISO 31000 Provisional Risk Manager | PECB Certified ISO 31000 Lead Risk Manager Exam or equivalent | None | None | Signing the PECB Code of Ethics |
| PECB Certified ISO 31000 Risk Manager | PECB Certified ISO 31000 Lead Risk Manager Exam or equivalent | Two years: One year of work experience in Risk Management | Risk Management activities: a total of 200 hours | Signing the PECB Code of Ethics |
| PECB Certified ISO 31000 Lead Risk Manager | PECB Certified ISO 31000 Lead Risk Manager Exam or equivalent | Five years: Two years of work experience in Risk Management | Risk Management activities: a total of 300 hours | Signing the PECB Code of Ethics |
| PECB Certified ISO 31000 Senior Lead Risk Manager | PECB Certified ISO 31000 Lead Risk Manager Exam or equivalent | Ten years: Seven years of work experience in Risk Management | Risk Management activities: a total of 1,000 hours | Signing the PECB Code of Ethics |
To be considered a valid risk management experience, the risk management activities should follow best risk management practices and include the following:
Defining a risk management approach 
Designing and implementing an overall risk management process for an organization 
Defining risk evaluation criteria
Identifying assets, existing measures, risk sources, and consequences
Assessing risk consequences and incident likelihood
Evaluating risk levels and risk treatment options 
Assessing residual risk
Communicating the risk
Performing risk management review
covers over 450 pages of instructional materials containing explanations, guidance, and practical examples.
covers examination fee and certification
covers over 450 pages of instructional materials containing explanations, guidance, and practical examples.
covers examination fee and certification
excludes 10% VAT
Course Features
Lectures

0

Quizzes

0

Duration

30 days

Skill level

Lead Level

Language

English

Students

0

Assessments

Yes